EARLY FALL RATES
SEPTEMBER 1 – OCTOBER 31
Come experience the beautiful fall in the Catskill Mountains this Autumn! An easy drive from New York City leads you on a scenic adventure on the farm. Scenic roadways, festivals, and hikes, the fall season offers so much to do in the Great Northern Catskills, where your family is sure to have an experience like no other this fall.
(Friday – Saturday) – Charges are on a Per Person, Per Night basis.
Adults
$165*
10-14 yrs
$85
5-9 yrs
$65
2-4 yrs
$50
Under 2
Free
*Minimum Price for Accommodations is $350/Night
(Sunday – Thursday) – Charges are on a Per Person, Per Night basis.
Adult
$150*
10-14 yrs
$75
5-9 yrs
$55
2-4 yrs
$45
Under 2
Free
---
LATE FALL RATES
NOVEMBER 1 THROUGH NOVEMBER 30
FALL SPECIAL DISCOUNTS
Your fall farm getaway includes SPECIAL DISCOUNTS!
Book your mid-week fall farm-stay vacation and get 10% OFF.
What's Included:
Your HULL-O FARMS Fall Farm Getaway includes:
Deluxe accommodations in your own private Guest House, including an eat-in kitchen where you can fix your favorite winter recipes for your family,
The opportunity to explore and enjoy our entire seven-generation working farm till your heart's content, and of course,
Access to local fine and family dining,
A take-home gift basket with our famous Farmer's Wife Buttermilk Pancake Mix, Real Maple Syrup (locally crafted), local-made jam, specialty teas, honey sticks, Ms. Sherry's recipe for Apple Crisp, and farm-fresh eggs.
The Rose: $250 per night for up to 4 people.
An inviting and cozy country home on the farm. This charming home is walking distance from the barns. It has a 2 bedrooms (1 queen, 2 twins), sleeper sofa, full kitchen, full bath, and living room with beautifully finished with pine floors (with lumber harvested from our own forests!)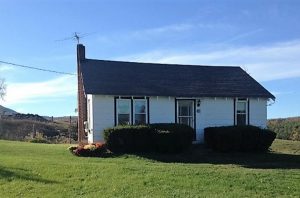 The Austin: $300 per night for up to 6 people.
This is a two story country chalet that was named after Grandpa Hull and is located at the very edge of our 300-acre farm.
This country home has 3 bedrooms ( 1 queen, 1 full with bunk beds and another with set of bunk beds), a sleeper sofa and futon,  2 bathrooms, living room, family room, dining area and full kitchen.  A glass-doored wood-stove also helps set the mood on brisk country evenings. A 32-foot second-story deck overlooks our scenic Durham Valley (a view that will remain in your mind long after your vacation is over).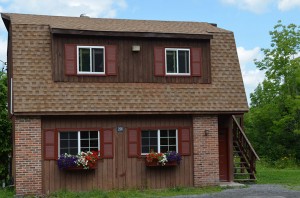 The Gifford: $375 per night for up to 8 people.
A two-story, cheery country home that was named after Grandma Hull and is walking distance from the barns. It has 4 bedrooms ( 2 queens, 1 full, 1 with four twins), a full kitchen, full bath, sun porch, living room with glass-doored wood-stove,  entry room, and deck which overlooks the cows in the meadows.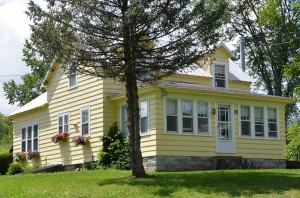 Fall Activities on the Farm:
Feeding the Animals
Leaf Peeping & Hiking
We are located just 15 minutes from Windham Mountain and 30 minutes from Hunter Mountain, top festival resorts in the Catskill Mountains. During your stay, take a look at the Greene County Events & Festivals calendar to check out what's going on around the Catskills this fall!
During the Fall and Winter Months ONLY, we occasionally host an annual hunting program so there may be hunters on the premises during your visit. If you have any questions or concerns about our hunting program during your stay at Hull-O Farms, we'll be glad to provide you with answers. Feel free to contact us.
Want to get updates and discounts on our family farm stay vacations? Sign up for our eNewsletter!