Hull-O Farms welcomes each and every guest with a genuine desire to create lasting memories and wonderful family experiences. Generations connect here; parents, children, grandparents and siblings step back to a time when most Americans made their living from nature, more people lived on farms than in cities, and life moved according to the rhythms of the natural world.
From private accommodations in our Farm Guest Houses, to great get-togethers for campfires and hayrides, each member of your family can join-in the day-to-day activities of a real working farm, or just sit-back, relax, and enjoy the beauty of the Great Northern Catskill Mountains.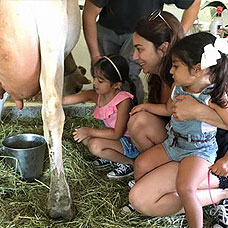 When you stay at Hull-O Farms, you and your family will have the opportunity to explore 300 acres of our seven generation, working family farm. Kids and adults can participate in daily chores, feed and play with animal farm friends, and more. Each season offers different activities and experiences, such as hayrides, fishing, hiking, leaf peeping, bonfires, sledding, and more.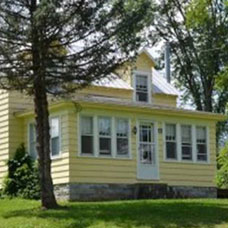 Deluxe Accommodations in Your Own Private Guest House
Feel at home on the farm in your own private guest house. Wake-up to the sounds of country life and breathe in clean country air, cook your family's favorite meals, and rest comfortably after a day of fun on the farm. At Hull-O Family Farm Vacations, we offer two private guest houses, each with their own distinct ambiance and charm.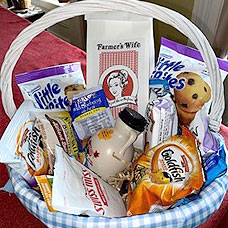 A ComplImentary Breakfast Basket
Every family that stays at Hull-O Farms will receive a bountiful breakfast basket that includes our famous Farmer's Wife Buttermilk Pancake Mix, Real Maple Syrup (locally crafted), specialty teas and hot chocolate mix, farm-fresh eggs, breakfast sausages and a variety of yummy breakfast snacks.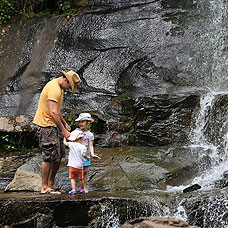 off-farm activities in the catskills
There's a lot to do in the Northern Catskills. Check out local attractions like Zoom Flume and Howe Caverns. Further activities like hiking, paddling, horseback riding, dining, and more can be found on the Northern Catskills Tourism site.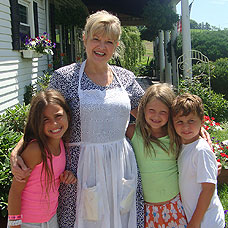 Book your Family Farm-Stay Vacation
Every season has something to offer at Hull-O Farms. Learn more and book your family vacation today.