MARCH 1 THROUGH MAY 26
Spring has sprung on the farm and it's time to start thinking about your spring family vacation!
Your spring family farm-stay vacation includes SPECIAL DISCOUNTS and a FREE Hull-O Farms take-home gift basket.
Book your mid-week spring farm vacation and receive 10% OFF you stay.
What's Included:
Your HULL-O FARMS Spring Family Farm Vacation includes:
Deluxe accommodations in your own private Guest House, including an eat-in kitchen where you can fix your favorite recipes for your family,

The opportunity to explore and enjoy our entire seven-generation working farm till your heart's content, and of course
Access to local fine and family dining,
A take-home gift basket with our famous Farmer's Wife Buttermilk Pancake Mix, Real Maple Syrup (locally crafted), specialty teas and hot chocolate mix, farm-fresh eggs, breakfast sausages and yummy breakfast snacks.
The Rose: $375 (Weekend) / $350 (Weekday) per night for up to 4 people
An inviting and cozy country home on the farm. This charming home is walking distance from the barns. It has a 2 bedrooms (1 queen, 2 twins), sleeper sofa, full kitchen, full bath, and living room with beautifully finished with pine floors (with lumber harvested from our own forests!)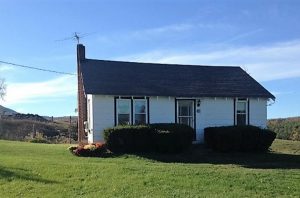 The Austin: $425 (Weekend) / $400 (Weekday) per night for up to 6 people
This is a two story country chalet that was named after Grandpa Hull and is located at the very edge of our 300-acre farm.
This country home has 3  bedrooms ( 1 queen, 1 full with bunk beds and another with set of bunk beds), a sleeper sofa and futon,  2 bathrooms, living room, family room, dining area and full kitchen.  A glass-doored wood-stove also helps set the mood on brisk country evenings. A 32-foot second-story deck overlooks our scenic Durham Valley (a view that will remain in your mind long after your vacation is over).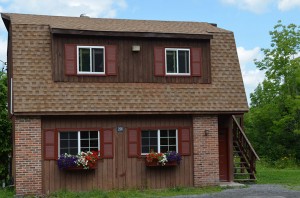 The Gifford: $450 (Weekend) / $425 (Weekday) per night for up to 8 people
A two-story, cheery country home that was named after Grandma Hull and is walking distance from the barns. It has 4 bedrooms ( 2 queens, 1 full, 1 with four twins), a full kitchen, full bath, sun porch, living room with glass-doored wood-stove,  entry room, and deck which overlooks the cows in the meadows.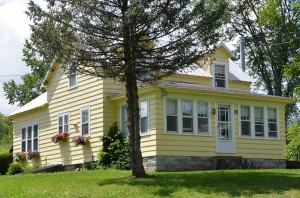 Want to get updates and discounts on our family farm stay vacation? Sign up for our eNewsletter!