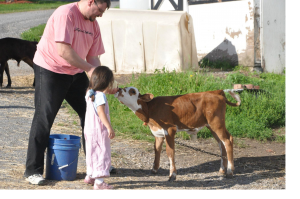 Farm chores can be rewarding work. It's also a great way for kids to learn responsibility, discipline and life skills. When visiting Hull-O-Farms, your kids will get involved in chores they'll be sure to say "YES!" to:
Caring for Poultry: A poultry flock is the perfect opportunity for kids to learn the day-to-day basics of farm-living. Kids as young as 2 can learn how to collect eggs with their parents. It's a fun chore and they'll never know they're working!
Kids can also help feed and water the flock, and older kids can learn about incubating eggs and raising different breeds of poultry.
Garden Work: There's no better way to get your kids to eat their veggies than to have them help out with the garden work on the farm! Kids can help by searching for ripe veggies, learning how to plant, water, weed and harvest. Your kids are sure to eat the fresh fruits and veggies they just picked themselves!
Livestock Care: Exposing children to animals at a young age will go a long way toward helping them develop interest in farm livestock. Once comfortable around the animals, children can feed, water and take care of them on a regular basis. Kids can help milk animals and feed bottles to young livestock, all while not even realizing their doing chores!
Helping out around the farm can be fun! A visit to Hull-O-Farms will help your children love chores on the farm while giving them an educational and disciplined experience. Book your family trip to Hull-O-Farms!